PERFORMANCE
Performance, Style, and Quality. Premium motorcycle products track proven.
PASSION
Made by riders for riders.
made to fit contours
The products we make are made to fit the individual bikes. They flow with the curves. 
Ducati sport classic led tail light details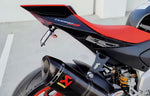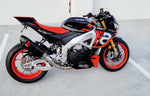 A kit that is a simple but sleek aluminum fender eliminator solution for the 2021 and up Aprilia Tuono and RSV4 that...
Learn more
Motobox USA's High-End Motorcycle Parts
What else is there that's quite like blazing down the road on an awesome bike? Basking in the sense of exhilaration and freedom that only a ride on a motorcycle can give you is already something special, but pushing things to the next level and taking to the road on a high-performance luxury motorcycle can be truly unforgettable.
Of course, your bike will need maintenance from time to time. To maintain the excellent quality of a high-end bike, good maintenance and quality parts are essential. Whether you need to replace old parts or simply change out the parts you have for better ones, Motobox USA has you covered.
Available Motorcycle Brands
Motobox USA sells parts for high-end bikes from some of the best-known and highest-rated manufacturers, including:

Aprilia
BMW
Ducati
Husqvarna
Moto Guzzi
MV Augusta
Norton
Triumph
Yamaha
What Kinds of Parts Do We Sell?
Across all of those above-mentioned brands, we sell a great variety of different parts.
These include fender eliminators like the Ducati Monster Fender Eliminator Kit, the Ducati GT1000 Fender Eliminator, the Ducati Sport Classic Fender Eliminator, the Aprilia RSV4 Fender Eliminator Kit and the Norton Commando Slimline Fender Eliminator Kit.
We also offer tail lights and tail light kits like the Ducati Sport Classic Tail Light, the Triumph Scrambler Tail Light, the Triumph Bonneville LED Tail Light and the BMW R Nine T Tail Light. In addition to these, we offer taillights and LED kits for the Triumph Thruxton R, Triumph Thruxton 1200, Aprilia RSV4 and Aprilia Tuono as well as a Slimline LED Kit for the Husqvarna 701, Slimline Integrated Tail Lights for the Yamaha R1 and R6 and tail lights for other models.
Furthermore, we sell parts like lowering links and levers for the Aprilia RSV4, exhaust pipes and handlebars for BMW bikes, turn indicators for Norton and Husqvarna bikes, resistors, headlight bulbs, and many others. In short, our high-end motorcycle parts selection is extremely wide and stretches over all of these makes and manufacturers.
Why Choose Motobox USA?
It's our broad range of different bike parts that makes us such a reliable source for everything that you and your bike might need. At Motobox USA, high-end motorcycles are our passion. We truly care about them and understand that keeping them in top shape is a serious and delicate business.
For that reason, we strive to offer as many different parts for as many different bikes as possible. Unlike some other high-end motorcycle parts sellers, we don't devote our attention to only one specific make or model. We understand that though motorcycle lovers are united by their passion for high-quality and high-performance machines, not everyone has the same kind of bike. Motobox USA, therefore, strives to be a one-stop-shop for high-end motorcycle parts.
If you need parts for your bike, check out our inventory today.